Font Compare, Freeware
by Lav Plourde
The font viewer is here, but the fonts are here .
Font Compare was reviewed by LockerGnome
INTRODUCTION
Font Compare is a handy little utility that allows one to compare three true type fonts at a time and to easily see whether a font contains all the numbers and punctuation, as well as the international characters needed for writing French. The fonts must be already installed on the system. A necessity for anyone wants to thoroughly examine a font before using it in the document.

SCREEN SHOT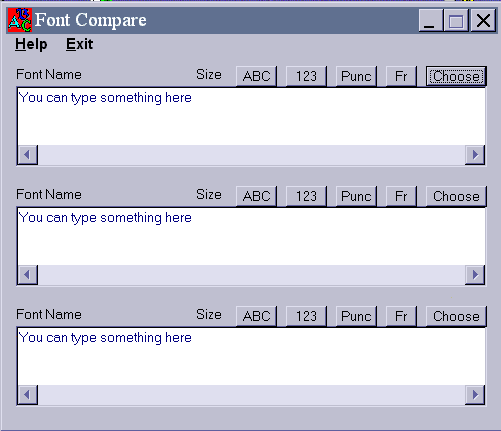 DOWNLOAD
Fntcmpr.zip contains the setup program. Just extract the files into a temporary directory, then run Fcsetup.exe to install Font Compare.

If you have trouble downloading from Tripod, try this .
SYSTEM REQUIREMENTS
Microsoft Windows 95 or later.

80486 or higher microprocessor.

VGA or higher resolution screen supported by Microsoft Windows. 640 x 480 or higher preferred.

8 MB of RAM.

Font Compare was written in Visual Basic 5 and needs the Visual Basic 5 runtime plus the common dialog control. All of this is provided in the setup program. That is why the thing is so large. If you already have something on your system that was written in VB5 and, considering its popularity, that is very possible, Font Compare will not add that much to your system. Worse case: 3 megs (with all the dependencies). Best case: 100K (you already have the dependencies).


INSTALLATION
Unzip the archive into a temporary directory. I.e. \expand. You can delete those files after the installation.

Run Fcsetup.exe to install. This is a well behaved setup program created with the Visual Basic 5 setup wizard.

Uninstall using Add/Remove Programs in the Control Panel.


Hope you enjoy Font Compare.
Want more Freeware Downloads
?
PackRat | Fonts | Skunk Smell Remover | Clipart | Wallpaper | Ecards | Jokes
You can write to me at:
lavlette.plourde@mcgill.ca